Fantasy larp scene in Croatia is certainly developing. Until 2012, nearly all larps in Croatia were fantasy larps universally played in the same, shared world with more or less the same ruleset universally (Amtgard's or a modified version of the same). Then Terra Nova arrived, running on ConQuest ruleset, and already estabilishing itself as the "alternative" series. Tragači zore was also a significant larp, and a one-shot compared to other fantasy larp series. A mythology larp has already been planned for some time, and here's the freshest project. Enter the Elder Scrolls Chronicles.
The Elder Scrolls is one of the most widely known role-playing game series for PC and consoles, and the most famous product of the Bethesda Game Studios. It's not the only one - Fallout is another, which had been acquired from its original owners, Interplay Productions - and it's the second PC RPG series that will be turned into a larp over here. Second after Fallout, and both are done by Bethesda - which means they're doing something right.
And indeed they are. One of the most significant features of The Elder Scrolls games (Arena, Daggerfall, Morrowind, Oblivion and Skyrim, as well as their respective expansions) are their sandbox approach, replayability, dedication to immersion, and tons of detail which include one of probably most detailed fantasy settings in existance - as well as some really unique player races and monsters which keep the lore and general feeling of the setting fresh from the usual generic Tolkien-esque stuff.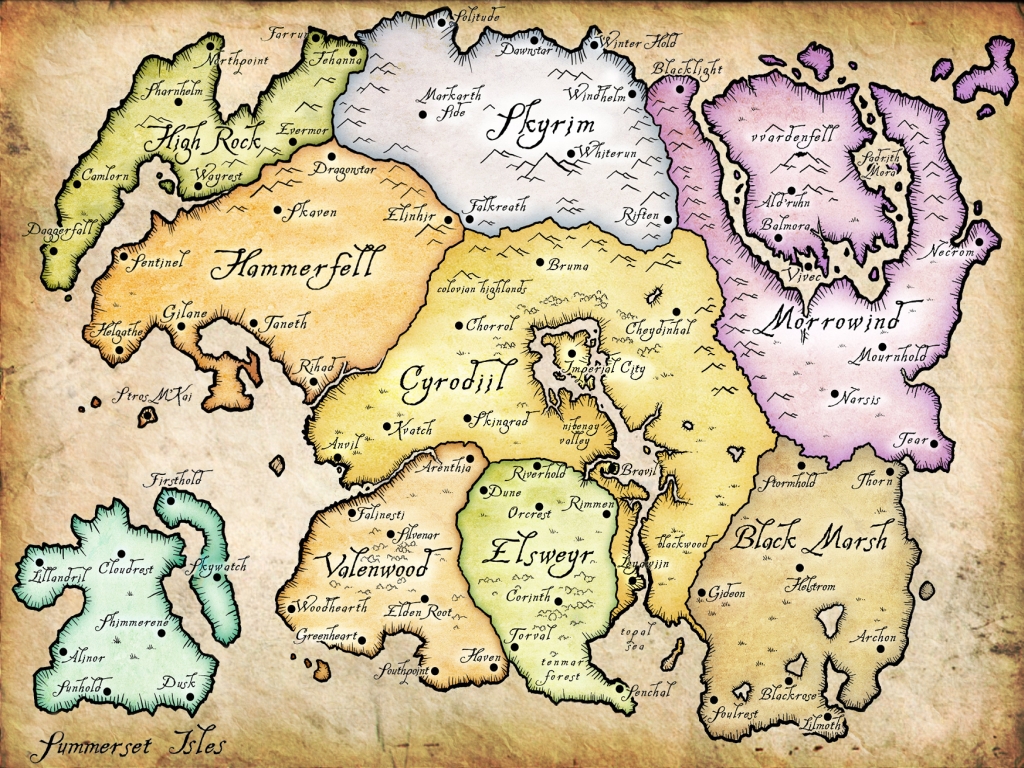 Map of Tamriel, the continent which is the setting of the Elder Scrolls
The project had recently been started by
+Marko Zadro
to create a fanmade larp series based on the game series and the rich setting they have. It will be called The Elder Scrolls Chronicles. There's currently the idea, a plan and a vision to what the larp could be and your feedback is VERY welcome. Most of the stuff regarding this project still needs to be designed and done - such as the ruleset, the storylines etc. - and the first event will most likely be some time next year. Feel free to check out the
project page
(which is in English), follow the news posted there, spread the word, get involved into the project and leave feedback to the author.
The Elder Scrolls Chronicles is an exciting project and it has the promise of bringing something new and different to the Croatian fantasy larp scene, so if you're interested keep an eye on its
website
and do your homework on the Elder Scrolls lore - of course, I'll also announce stuff about the project here on this blog.